Song of the day: Katy Perry ET (Benny Benassi Remix)
While working on this internship, I have learned a lot of things about how to care for various works of art. I have learned to understand some of the basics as well as more measures for caring for work. In the next few blog posts I will be making an brief list of steps that one should try to follow for keeping a work of art.
1. Make sure it has a good record.
One of the best ways to care for an object is to know it. To do this, it is best to try to understand its history by recording where it came from, as well as indicating any other known history. Doing this establishes a provenance that could better help an owner better appreciate the work. In this record there is also a need to identify the artist, the media and other miscellaneous details.
Gilbert Stuart, Portrait of an Unkown Lady
This work was acquired by a donor Dr. A. O. Ackley in the 60s who had previously purchased it from the Kennedy Gallery of Chicago. It was even selected to be exhibited in the Asa Park exhibition in the fall of 2006. This work is an oil on canvas and created in the period between 1810-1820. This is an example of an early provenance. A more in-depth provenance would also include information of the work all the way back to its creation.
Additionally, this work's artist can be further researched, including answering questions like "Where was he at the time of this painting?" and "What are other examples of this artists work?"
A Brief Summary of Gilbert Stuart (A more detailed research about this artist would be

recommended

)
Gilbert Stuart lived during the 18th century, and was as described by the website of an museum in his own name, as "America's master portrait artist." Some of his best known works include The Athenaeum, the unfinished George Washington portrait that was a model for the dollar bill, as well as this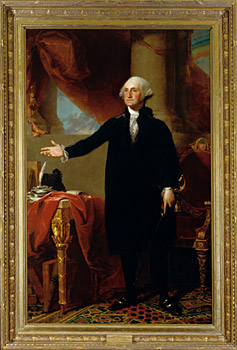 identified as the Lansdowne portrait from its previous ownership
Stuart, during his lifetime had painted a large variety of portraiture of various known figures in this era, including the first six presidents of the United States. His works can also be found in various fine arts galleries all over the world.
Understanding as much about the work as possible is essential for proper care of an work. Further research into the way the artist worked, the time within which he worked and the history that the work has traveled through gives a better understanding of the work, as well as placing the work in a broader narrative. For most works are in some way, a reflection of the artists time. The production of the work, would be based on what the artist has access to, and the implication would be dependent on how the artist thinks, works and reacts.